Project: Heatons Summer Festival
Coordinator
Amanda Fourie / Festival Committee 
The Heatons Summer Festival
Founded in 2010 as a 'food festival' to thank the local community for supporting Heatons businesses, the very first Heatons Summer Festival was organised entirely by volunteers from the 4HTA with some seed funding from the council. It was held in Heaton Moor Park with a small number of stalls, food and a kid's funfair.
Fast forward to a few years and the Summer Festival has grown significantly, attracting 5,000+ visitors throughout the day with a live music stage and a wide range of local business and food stalls. Although the festival continues to be planned and organised by 4HTA volunteers, the size of the festival means that professional Event Safety Management is required with LFX Events ensuring we run the safest event possible.
The income generated from the festival – through stall charges, sponsorship and donations on the day – all go towards covering the extensive costs of running the festival, but also allow us to make a donation to the Friends of Heaton Moor Park and invest in future projects for the Heatons. The festival charity raffle raises money for a chosen Heatons-based charity and the proceeds from ticket sales have benefitted several Heatons charities over the past 9 years.
Find out more about the Festival in 'A Brief History of the Heatons Summer Festival' over on our blog page and take a look at the gallery below for photos of the festival over the years.
Being our flagship event, The Heatons Summer Festival has it's own website which is updated in the run up to each event.
Latest Blog Posts for the Project: Heatons Summer Festival
Four Heatons Traders Association
Making the Heatons a better place to live, work and prosper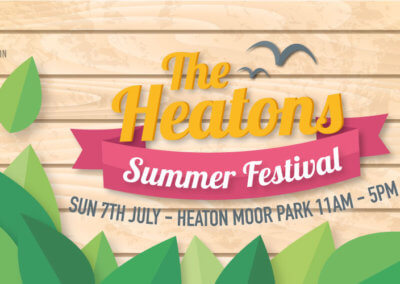 4HTA
Making the Heatons a better place to live, work, and prosper