The challenge has been set to consider the use of plastics and to find sustainable alternatives. Plastic-Free Lent is asking people to give up single-use plastics for the 40 days of Lent and will help draw greater attention to the sheer volume of plastic we use/have in our daily lives.
Want to take on the challenge? Here are some tips from Clean Ocean Sailing on what you can do and that will, hopefully, encourage you to give up single-use plastics permanently:
1. Bring your own reusable coffee cup to work and to the shops
2. Stop buying bottled water
3. Bring your own reusable shopping bag with you to the supermarket
4. Switch to bar soap instead of bottled hand soap and shower gel
5. Bring your own cutlery and containers with you when you get takeaway
6. Consider shopping at green grocers and farmers markets to avoid supermarket plastic packaging! (Whilst also supporting your local businesses)
7. Use a face cloth and coconut oil instead of make up wipes
8. Use beeswax wraps instead of cling film or disposable sandwich bags
9. Use toothpaste tabs (or consider making your own toothpaste!) instead of buying plastic tubes
10. Say no to plastic straws!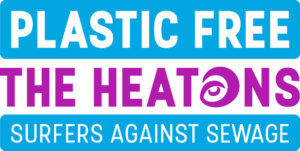 4HTA
Making the Heatons a better place to live, work, and prosper