The main offenders – straws and take-away cups
Replace plastic straws with those made out of paper and encourage customers to bring a reusable cup for take-away drinks. Go one step further and get rid other unnecessary plastics, such as plastic stirrers, cutlery (replace with wooden cutlery), and plastic-lined take-away boxes (replace with card food boxes), and consider recycled napkins.
The bag walk of shame – plastic carrier bags
Reusable shopping bags are widely available at very affordable prices. There is no need for shops to still be giving out a plastic carrier bag. Why not sell re-usable bags in your shop and replace small, plastic bags used for fresh produce with paper ones – yes, let's go back to how it used to be done!
Water comes from taps you know – bottled water
Empty plastic drinks bottles turn up everywhere and are one of the main items of plastic waste that is visible around our area. Stock canned drinks instead (water even comes in cans now!) or those in glass bottles. And, let it be known that customers can refill their reusable drink bottle with you!
Plastic, in my tea?! – Tea bags
Yes, tea bags contain plastic – the process involved in sealing the tea into bags means that your every day cuppa contains plastic. Many brands are now introducing plastic-free tea bags – stock these instead or offer customers loose-leaf tea.
One sachet is never enough – single-use condiment sachets
What is wrong with shaking a bottle to try to get the last few drops out of the bottom (good work-out for your arm?!), or spooning out a sugar cube from a bowl… do we really need sauces, sugar and salt to be in individual, portion-sized sachets? Let customers choose their own portion size and battle with a bottle by getting rid of sachets of ketchup, mayonnaise and vinegar, and allow them to perfect the knack of digging out a sugar cube or balancing a spoonful of sugar from bowl to cup by no longer supplying sugar in sachets.

If you are a Heatons Business, and you would like to make these changes, then get in touch and we will drop off a #KickThePlastic pledge poster and add you to our online gallery. And, if you are ahead of the game and have already made 3 or more of the changes listed above, then let us know so that you can be a Plastic-Free Champion and receive a cute wooden plaque to display in your business!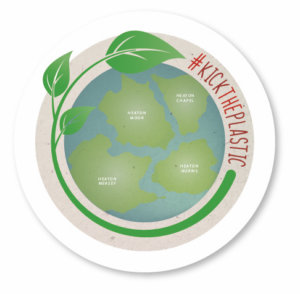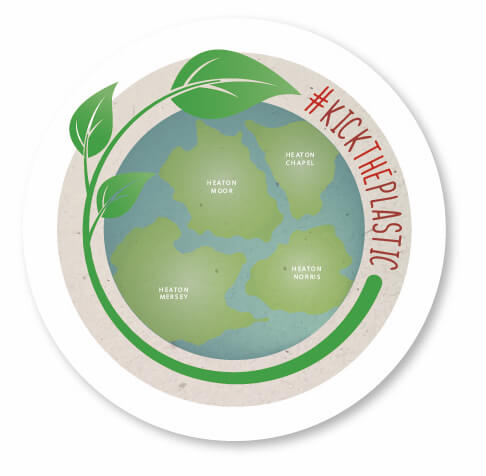 4HTA
Making the Heatons a better place to live, work, and prosper