Heaton Moor Market is approaching its 10 year Anniversary and in that time it has been nurtured by Amanda Fourie and Heather Thorpe from being a few stalls on the Kushoom Koly carpark and a Craft Fair above what was the Kro Bar to the lively, bustling market that you see today. Amanda built the outdoor market and I began the Craft Fair as I had started  selling Flamingo Paperie cards
www.heatherlovescards.co.uk
and was looking for an outlet as a non shop front business. In time the Craft Fair became established, the outdoor market blossomed and ultimately the Craft Fair migrated outside and was absorbed into the outdoor market, where it remains today. During this time Amanda moved on to pursue her PhD and I took over the running of whole venture.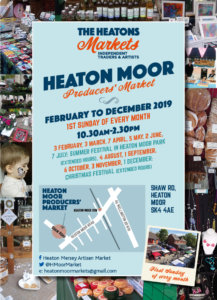 We happen every month, except January, on the 1st Sunday of every month 10.30 – 2.30pm and we have loyal, smiling and enthusiastic customers who come out whatever the weather every month. Our Traders are regulars who love coming to us and if you could see my waiting list of just how many others would like to join us, it would bear witness to its popularity amongst Traders. A comment I receive with amazing regularity from new Traders coming on is how friendly we are and how lovely the people of the 4 Heatons are.
We are also heavily involved in the Christmas and Summer Festivals and they give us the chance to showcase more artists and producers.
We now have a sister market too! Heaton Mersey Artisan Market is up and running and is a quarterly market : 23rd March, 11th May, 21st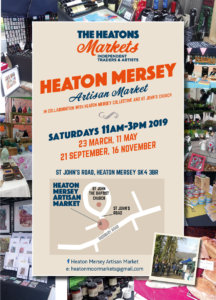 Sept, 16th Nov. Heaton Mersey Artisan Market is run in collaboration with the Heaton Mersey Collective and St John's Church and it takes place on the cobbled square in front of the church. The church is always open and stalls, refreshments – all sorts happen inside too.
11-3pm are the timings.
See you at the next one!
Heather Thorpe
Four Heatons Traders Association
Making the Heatons a better place to live, work and prosper