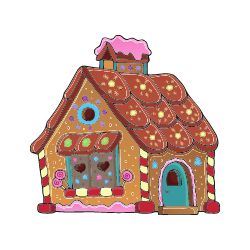 Can you find all the gingerbread houses?
Gingerbread houses will be popping up in shops throughout the Heatons this Christmas! Will you be able to find them all?
Download a trail sheet to be able to enjoy the trail. When you find each gingerbread house, simply tick them off on your sheet.
We'd love to see photos of you enjoying the trail and find out which are your favourites – post your photos to social media using #HeatonsXmas. 
The Christmas Trail Sheet will be available to download here in:
Participating Businesses
The businesses below will be taking part in the Christmas Trail. The trail has been designed for our younger Heatonians, but please ensure children are supervised at all times. Businesses are spread out from Heaton Chapel to Heaton Mersey, and there are many roads to cross – so please follow the Green Cross Code!
Unfortunately, due to Covid-19, busniesses will be unable to give out treats this year, but we hope children continue to enjoy the Heatons Trails!